Many have been waiting for this for two years. Since yesterday, the final release of the newUbuntu LTS Version 12.04 "Precise Pangolin" released. How to get the update on the cirrus7 one You will learn in this step by step guide.
A cool overview of what's new at Precise Pangolin is in the followingUbuntuusers Beitrag.
A reinstallation of the cirrus7 one its unneccessary. The standard update routine of Ubuntu works fine. The adapted fan control of the cirrus7 one remains after the update. There us Precise Pangolin Fortunately, it will take another five years to create a new repository. Currently there are the same package versions as in the oneiric repository. Nevertheless, we recommend switching to the new repository for the future anyway.
Step 1. Update via update management
Normally, Ubuntu Oneiric automatically notifies you about Pangolin: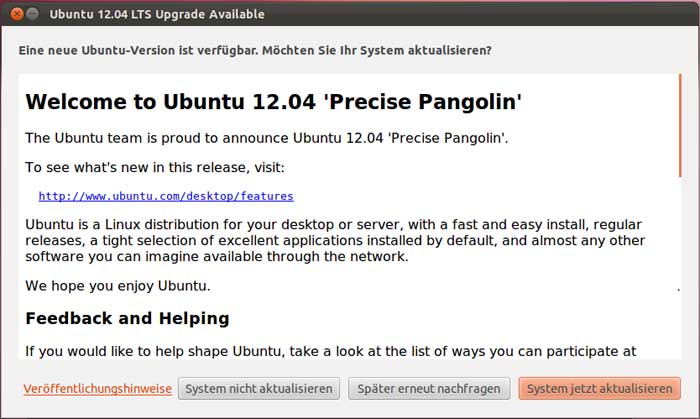 You can then click on "Update system now" directly. If the automatic update notification is deactivated, or if you have selected "Do not update system", you can start the update procedure as follows:
ALT-F2
update-manager
From here you can easily get up"To update" to press.
The upgrade process may take some time, depending on which packages are installed. Third-party repositories, including ours, are automatically deactivated. The installed packages from our repository – like Lightcommander, fancontrol-conf, etc. remain installed. During the update process, you will often be asked if you want to preserve or overwrite configuration files related to programs. You have to decide on a case-by-case basis whether you want to overwrite the configuration file or not. If you overwrite the configuration files, a backup copy of the old configuration file will be created in the same directory. You can therefore overwrite the configuration files without hesitation and restore the "older" state if necessary. As the update stops on demand, you should occasionally take a look at the update. In any case, without any user interaction, it does not get by. After the update, you will be prompted
Step 2. Integrate new cirrus7 repository
WWe will now delete the old cirrus7 package source which was deactivated by the update process anyway and then get us the updated package sources:
cd /etc/apt/sources.list.d/
sudo rm cirrus7-*
sudo wget ubuntu.cirrus7.com/cirrus7-precise.list

An update of the package sources is sufficient. As already described, the packages themselves have not changed.
sudo apt-get update

Restart your computer now. After the restart please check in a terminal if the fan control is working properly:
sensors

The number of revolutions of the fan should now be between 550-650rpm. And the temperatures should be displayed for all CPU cores.
If you have questions about the update process, please contact us. Have fun with Precise Pangolin!