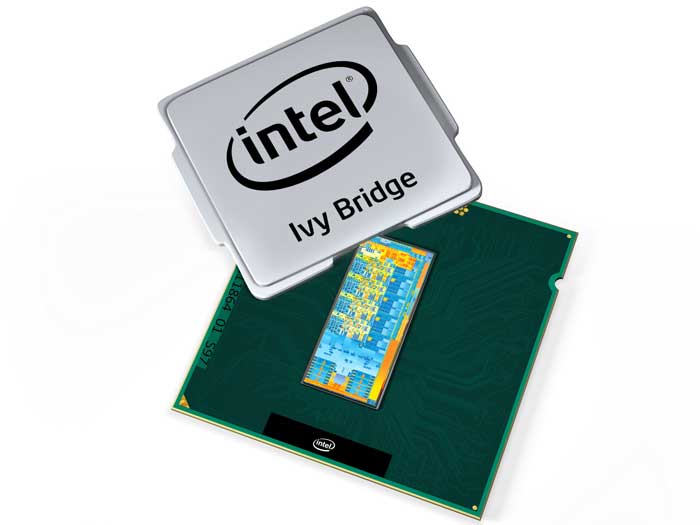 After Clarkdale andSandy Bridge is there cirrus7 one now also in the 3rd generation. In the variants i5 and i7 We had already started the cirrus two months ago7 one with Intel Ivy BridgeEquip processor. The i3Variant, and thus the basic model, is now also as Ivy Bridge Model available. Intel® had the i3 Ivy Bridge released only at the beginning of the month.
Since 2007 Intel® develops after its so-calledTick-Tock principle. Every two years, the CPUs are given a new microarchitecture. The following year, there is a structural reduction – the so-called "Die-Shrink". After IntelTick-Tock Development cycle is the Ivy Bridge one Tick, So a die-shrink from 32nm on22nm the previous version Sandy Bridge.
In a classic Tick the processors benefit mainly from a faster possible clock frequency and / or lower power consumption.
Since Intel this time but also strong on the GPU screwed – as well as the production process on the so-called Tri-GateHas introduced transistors – Intel himself speaks of one Tick+. With a performance increase of up to 68% of the integrated graphics this is justified. The speed increase of the CPU falls with 5% -15% compared to the predecessor model, as usual with one Tick,rather moderate.
What changes on the cirrus?7 one ?
Except that now Ivy Bridge Processors will be installed cirrus7 one also equipped with a new board. Instead of that Zotac-H67-ITX, now comes the successor modelZotac-H77-ITX for use. The new Intel® chipset H77 has finally compared to its predecessor USB 3.0 on board. In the previous version of the board was USB 3.0 still about an additional chip of VIA realized.
From the other connections nothing changes. In a confined space offers the cirrus7 one 6xUSB 2.0, 2xUSB 3.0, eSATA, Gigabit LAN, DVI, HDMI, DisplayPort, PS2, sowie 7.1 Sound analog und digital.
In addition, in the new Zotac-H77-ITX In addition to wireless LAN also Bluetooth installed. So you can connect easily and wirelessly to your mobile phone.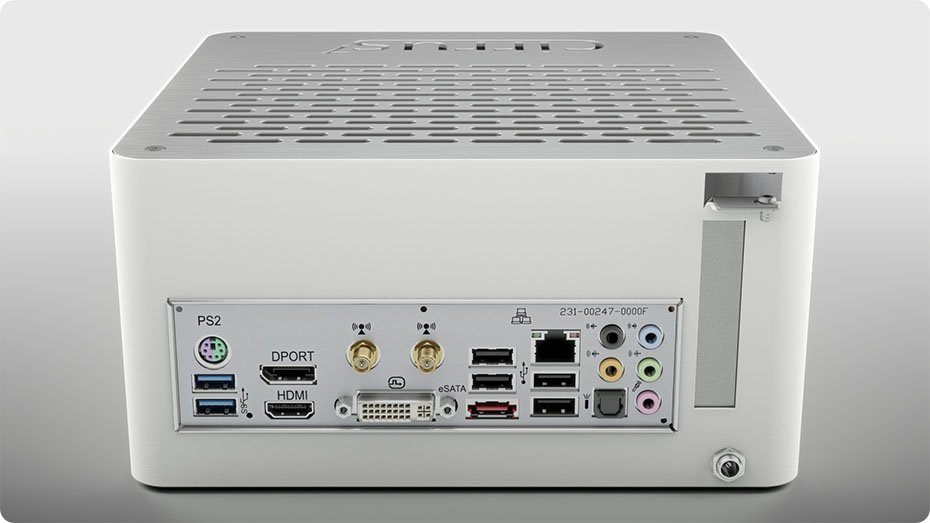 Which CPUs are installed?
In our configuratorNow you can configure five instead of three different CPUs. We chose the very low power S and T Variants of the processors decided that for the performance very low waste heat of 35W, 45W and 65W TDP to have. For the first time there is even one i7 With 45W TDP. Here is an overview of the recommended by us and selectable in the configurator Ivy Bridge CPUs. On request, we also obstruct other models. Just take it Contact mit uns auf.
Prozessor
Modell
Cores
(Threads)
CPU Taktrate
TDP
GPU
L3 Cache
Normal
Turbo
core i3
3220T
2 (4)
2.8 GHz
N/A
35 W
HD2500
3 MB
core i5
3570T
4 (4)
2.3 GHz
3.3 GHz
45 W
HD2500
6 MB
core i5
3475S
4 (4)
2.9 GHz
3.6 GHz
65 W
HD4000
6 MB
core i7
3770T
4 (8)
2.5 GHz
3.7 GHz
45 W
HD4000
8 MB
core i7
3770S
4 (8)
3.1 GHz
3.9 GHz
65 W
HD4000
8 MB