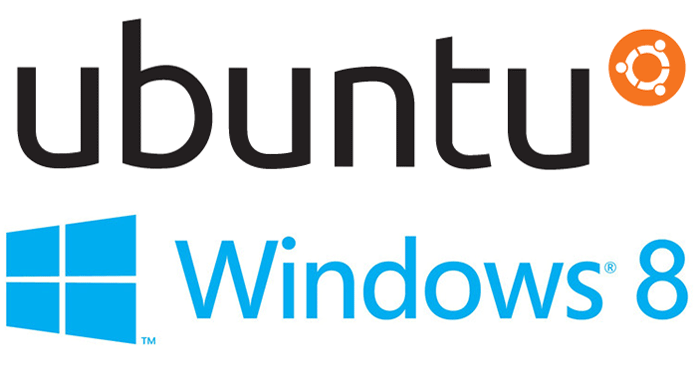 October is here, with new releases of Ubuntu and Windows coming soon. Canonical has scheduled the release date of Ubuntu 12.10 (Quantal Quetzal) on 10/18/2012 – Windows 8 will arrive at a few days later 26/10/2012 . The renewed operating systems will of course also be preinstalled on the cirrus7 one to give order
Both predecessor operating systems ( Ubuntu 12.04 LTS and Windows 7 ) will still be available from us. Windows 8 is a controversial update for many desktop users. Ubuntu 12.04 is an LTS Release and will be supported until April 2017. After all, the previous version has a whopping 3 years longer support than the upcoming Quantal .
Both Ubuntu Quantal and Windows 8 are of course without limitations, even with older revisions of the cirrus7 one , So also the Clarkdale and Sandy Bridge version, executable.
Compared to previous versions Canonical published Ubuntu 10.12 a version with more moderate changes and improvements. One of the biggest changes is that there will be only 800MB of installation medium in the future. Both the bloated DVD image and the alternate image are gone. Unity 2D the desktop offshoot for not-so-poor or poorly-supported GPUs. In the future there will only be Unity 3D – updated to version 6.6. This is not a problem with the cirrus7 one . But Unity will be able to run on older hardware as well. Graphics drivers that do not support certain effects features should render mesa to the CPU in the future.
The Linux kernel has now arrived at the most recent version 3.5.4. Other programs will also be upgraded to a more recent version, as is the case with a new Ubuntu release . For example, LibreOffice is available as version 3.6.1 in the Quantal package sources.
A rather controversial innovation is the Unity Amazon Shopping Lens . This will display Amazon search results directly in the Unity dash. Canonical wants to tap into another source of revenue. If you do not want to, you can uninstall the feature as follows:
sudo apt-get remove unity-lens-shopping

Web Apps better integrate online services into the Ubuntu Desktop
Another new feature is the so-called Web Apps , which can also be retrofitted under Ubuntu 12.04 . With Web Apps , Canonical promises tighter integration of Web services such as Gmail, Grooveshark, Last.fm, Facebook, Google Docs, etc with the Ubuntu Desktop . The supported services should feel more like real desktop applications. There is a HUD integration as well as desktop notifications – for example with new mails. Supported browsers are currently Firefox and Chromium.
A video from Canonical demonstrates the new web apps:
For a detailed listing of all changes that will be included in Ubuntu 12.10 Quantal Quetzal , there is official (here) here .
worth an update?
Whether it's worth updating from Ubuntu 12.04 to Ubuntu 12.10 everyone has to decide for themselves. The newer kernel will also be available as Backport version for Ubuntu 12.04 . Likewise, the Web Apps can be installed on Ubuntu 12.04 . If you can do away with the rest of the changes that Quantal brings with you and the biannual update shy away, you can safely stay with Ubuntu 12.04 .
Windows 8 there will be for the private future in two variants clearer. One is simply "Windows 8" and is the most comparable in functionality to Windows 7 Home Premium . Windows 8 Pro is a mixture of Windows 7 Pro and Windows 7 Ultimate . Microsoft does not use Windows 8 Ultimate . There will still be a Windows 8 Enterprise version, but it looks like it will only be available as a volume license – so it's actually only for business. Too bad, because the Enterprise Version definitely has features that are also interesting for the home user. For example, "Windows to Go" – a Windows 8 installation on a USB stick.
In addition to new features, some features will also be dropped
Windows 8 does not come with either the Windows Media Center or a native codec for playing DVD media. Windows 7 Home Premium and Ultimate had both features on board. In Windows 8 , Microsoft dispenses with an add-on, based on the fact that DVDs are hardly played back compared to streaming videos on the PC. As long as you do not want to build a Media Center PC , this argument is also understandable. This ultimately saves Microsoft licensing the codecs. However, the Windows Media Center and the codec for DVD playback can be upgraded with the "Windows 8 Media Center Pack" for $ 9.99.
Many Windows 7 Pro and Ultimate users also appreciated the Windows XP Mode . Which is actually nothing more than a Windows XP installation running under Microsoft Virtual PC. Technically nothing special, after all, there are better virtualization systems with VirtualBox or VMWare Player . The charm of it was that you got the Windows XP license right there. Also, this feature, and thus an additional Windows XP license, will be removed with Windows 8 Pro
Controversial Modern-UI
In addition to supporting ARM processors , such as those used in smartphones and tablets, there is also a touch-optimized interface called Modern- UI – better known as Metro , but a German retailer disagreed with that …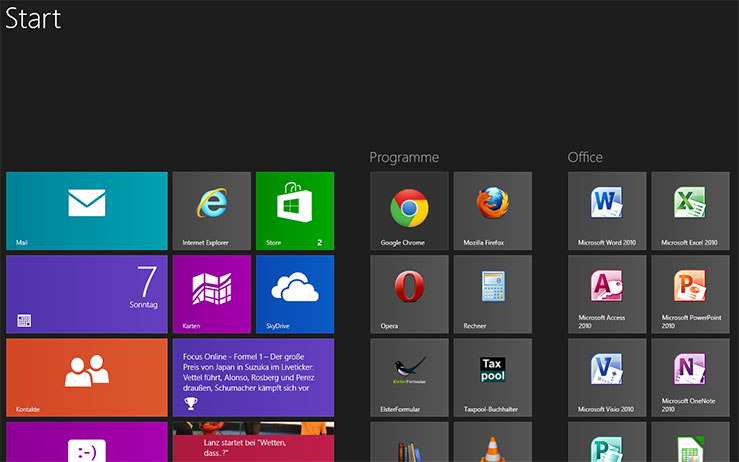 There are custom applications for Modern-UI , and what else could have been expected – another new app store. Of course, these applications are designed to represent and operate touch devices such as smartphones and tablets. Shortly before the launch, there are about 2000 apps. How the App Store is developing is not yet in sight and will ultimately depend on the success of Windows 8 on mobile devices.
The desktop loses its startup menu in favor of Modern-UI , causing an outcry in the Windows world. As long as one regards as a desktop user Modern-UI aka Metro as oversized start menu (with own apps) – one can quite quickly make friends with it. Whether the new concepts of the Modern-UI were well-married to the desktop or whether the two concepts are compatible at all is on another note. The conclusion of some critics that Windows 8 could only be used for tablets is wrong.
The Aero Desktop introduced with Windows Vista has been abolished with fancy transparencies, shadows and other effects. The surface is no longer so plastic, but rather flat. Whether it pleases – is always a matter of taste. Mockers are talking about a Windows 3.1 look.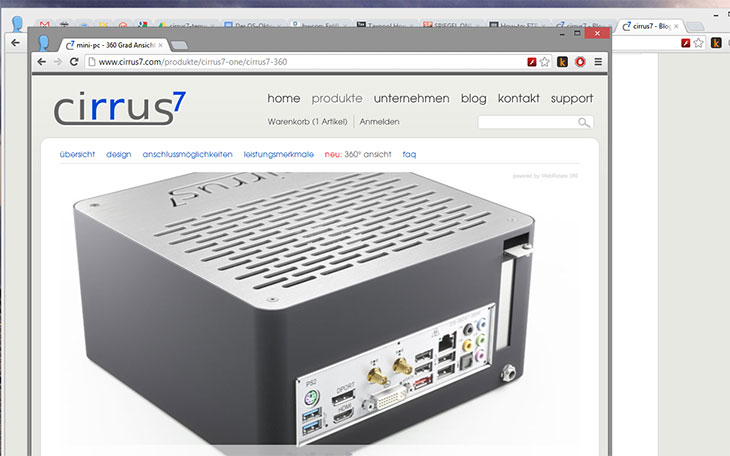 Improved booting and power saving
Boot speed and shutdown have become significantly faster compared to Windows 7 . Switching the computer into the energy-saving mode, as well as waking it up again, is surprisingly fast.
Enterprise virtualization included
It's good news that Microsoft has integrated its Enterprise Virtualization Hyper-V into the Professional Version of Windows 8. Incidentally, a trial installation of Ubuntu 12.10 ran smoothly under Hyper-V – which is not surprising, after all, the Hyper-V Integration Components since version 2.6.32 an integral part of the Linux kernel.
Temporary "Windows Upgrade Offer"
For computers purchased from June 2nd, 2012 with a Windows 7 version, Microsoft offers a quite attractive upgrade offer. For 14.99 € there is an upgrade to Windows 8 Pro . This also applies to Windows 7 Home Premium . The program runs until 31 January 2013. If you are interested in an upgrade should register directly with Mircrosoft. Of course, this also applies to our customers who have purchased a cirrus7 one with a Windows 7 license as of June 2nd, 2012. For the login process, the following data is requested by Microsoft:
Name
Contact
Email address
phone number
PC purchase information
Brand / Model of the PC
For Sale Date
Dealer / PC manufacturers
You may be asked for more information to verify the registry, including the Windows 7 Product Key for the eligible PC.
All relevant information on the "Windows Upgrade Offer" can be found here.
When you configure a cirrus 7 one flirt We advise you , of course, if you are unsure which operating system suits you best.